Cool photo (courtesy Haras Elpegere) of Anglo stallion UBAC D'ELPEGERE (27.58%) a 1986 gray by Fast out of Lutteuse (Vertugadin) jumping a 7+ foot Puissance wall. This guy had a jumping index of 150, no surprise! He competed for 10 years winning many Grands Prix - and competed as a 6 yo wih a 13 y.o. rider! He has quite a few offspring that are successful jumpers.
L'Elu de Dun 34.74% (Prima d'Or x Folaminte) placed 3rd in the Montpelier GP 1.40m class. (Photo left M. Leveau)
Below is a video from 2009:
MILTON OF LACOMBE (AAC 23.845 by Dairin x Tiffany Joy) is the winner in the Grand Prix 1m35 with his owner David Melin.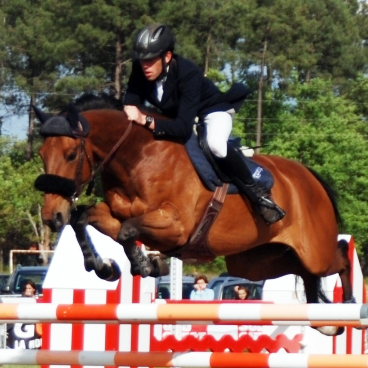 Magique Saincrit 42.62% (COOK DU MIDOUR x IRATZE SAINCRIT ) and Hugo Barthelaix have had a great year so far. (Pictured above by M. Leveau) Highlights include a first of 47 in Pro 2 GP 1.35m and 2nd of 39 in Pro 3 Speed 1.25m at Barbaste in February; a 4th of 20 at LeMans 5 in Pro 2 Speed 1.35m; a first, 3rd and 6th at Lege Cap Ferret in Pro 2 GP; a first of 96 in Pro 2 Prep at Jardy; another 1st of 40 entries Pro 2 GP 1.35m; and two 2nds and a 3rd of 51 at Barbaste in Pro 1 and 2 GPs.
Here is a video from March:
LOUSTICK DU BUGUE
Loustick du Bugue (AAC 17% by Golden Whip (TB) x Vanille du Bugueet) with Nadege Faucoulanche finished in first place at the St. Seurinur L'ile Pro 2 Grans Prix; 3rd at Langon Pro 3 GP 1.25 and 9th in Pro 2 1.30m; 7th at Bergerac in the Pro 2 Grand Prix 1.35m; 11th at Barbaste in the Pro 2 Grand Prix 1.40m;and 8th at Pompador Pro 2 GP 1.35m.
Jean Manuel Charmes and Noble Mer (46.38% by Veloce de Favi x Noble Chasse) won the Amateur Elite 1.25m class and finished 6th in the Pro 2 GP. Earlier in the month, he won the Amateur Elite and was 2nd in the Pro 2 GP. Photo above.
Earlier in the season, he had wins at Aurillac in the Pro 3 and Pro 2 GP; and at Pompador was 1st in the Pro 2 GP 1.30m out of 53 entries and 3rd of 46 in the Pro 2 GP 1.35m!
CSI BETHUNE
Prelud de la Bergerie (39.23% Quatar de Plape x Livia De La Bergerie ) and Olivier Delbende ranked 1st in the class for 7 year-oldsnout of 56 entries. (Photo above by Isabelle Joye.) He also had a 3rd in the 7 yo and 5th in the 7 yo Grand Prix at Palaiseau.
Two months without competition and a change of rider that did not affect his jumping, Qualimero Choisi (41.29% by Kim du Maury x Lola de Ceph) rider was recently changed to Jean Paul Charignon in the 6-year-old test at Cluny (40+ entries). With only 4 rounds (all without fault!) Qualimero has already grossed more than 1000 euros in prize money. (Photo left)
This talented jumper was also first of 50+ in his 2 6 yo classes at Deauville.
In 2009, at the 5-year old tests, he was 1st of 105, 1st of 97 and 1st of 91 at Fontainebleau; 1st of 108 at Compeigne; 1st of 76 and 1st of 81 at Notre Dame 5; 1st of 58 and 1st of 80 at Les Pieux; 1st of 76 and 1st of 54 at Cabourg; 1st of 129 and 1st of 96 at Le Pin; 1st of 63 and 1st of 82 at Notre Dame 2; 1st of 96 and 1st of 83 at Sainte Mere; 1st of 177 and 1st of 151 at auvers; 1st of 120 and 1st of 109 at Le Pin; and 1st of 95 and 1st of 87 at Le Mans!!
As a 4-year old, he won all 3 classes he competed in, with 117, 96 and 71 entries. His record is incredible, only being less than 1st in 3 outings! Wow!
Here is a video of Qualimero Choisi:
NUTS HELIRIE (39.73% Geriko du Quercus x Victoire du Cambon) won a first and 4th at Aurillac in GP and a 4th at Thiers.
The stallion ORIENT DU PY (38.4% by Quatar du Plape x Kenza du Py) won a CSI* and placed 6th in another at Villeneuve Loubet; was 4th in two GP 1.35m at Lege Cap Ferret; 4th and 5th at the CSI** at Vidauban and 4th in Pro2 GP at Gradignan. Photo left.
VIDEO here:
NIRVANA D'OC, pictured below, (47.47% by Iago C x Forteresse) and Philippa DOBBY ranked 11th in the 1m45 in the CSI**** at Comporta, Portugal. These results follow their good finsh last week at 6th in the 1m45. (photo Phillipadobby.co.uk)
This pair helped the British Young Riders Team win a victory in the Nations Cup Young Rider this spring also.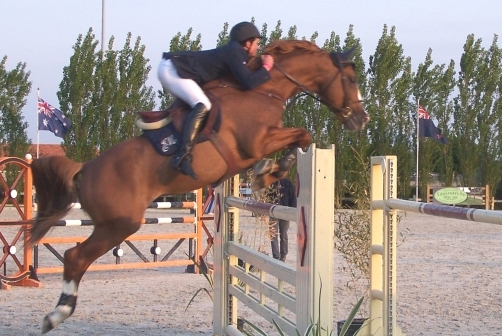 At that same comptition, the dazzling Kantor de Logerie (39.17% by Quercus du Maury x Roxane du Tertre) and his owner Thibault Pigeon ranked 10th in the 1m35 class.
Anglos have again proved they are great horses for young riders, with the "spirit" and the intelligence to make up for difficult situations.
Here is a video of Kantor de Logerie:
His impressive show record includes:
Bronze Medal at the Junior European Championship
First Nations Cup Junior Hagen
3rd Ace Junior Championship (second step 1m40, 1m35 first step)
CSI *** 1m40 9th Dinard
6th Grand Prix CSIO Juniors Reims (1m40)
7th Nations Cup Junior Reims
8th Gp 1.40 Jardy
9th CSIJ Lummen 1.40
12th Gp Junior 1m45 Jardy
INDIAN DE HERE - Small Package!
Story courtesy of Adrien Cugnasse & Pellion Stud

Standing at public stud for the first time in 2010 is the famous Anglo jumper pony, INDIEN DE HERE (45.47%).

Bred in France, this Anglo Arab stallion has a bloodline that includes foundation sires for producing show jumpers and eventers such as Nithard and Pancho II.
Sire: Osier du Maury (AA) was a dark bay French National stallion from 1995 who sired numerous talented show jumpers. His own sire is the international show jumper Jalienny and his dam comes from a top damline.
Dam: Indien de Here comes from an exceptional damline. His mother Laurentides, a bay AA, was an international show jumper, reaching a career high performance index for jumping of +156 in 1988 and a genetic index for jumping of +11 (68% reliability)*. Hissister Carole de Here also jumped successfully at the 1m45 level. A sister of his mother, Giralda, jumped in Nations Cups for the French team. This very old Anglo- Arabian damline has produced a lot of top jumpers.
Damsire: Faritchou (AA) was a French National stallion from 1976 to 1994 and the sire of CSI and CCI horses. He was the brother of GARITCHOU father of OPALINE DES PINS (dam of JUS DE POMME Gold Medal in Atlanta, SHOGUN II CSIO, RICHERBOURG CSIO, QUINTUS CSIO), ROYALTIE DU BEC (dam of Allah Jabek whomade big impression in the 2008 Olympics), TAJ MAHAL (dam of Andiamo Z CSIO with Lansink).
Started at age 5, he won a class in the finals of the six year olds and in B1 the same year. Exported to Great Britain at the age of 7 years, he competed at the highest level (in international level pony, junior and in Grands Prix up to 1m50!) He has been ridden by three different riders including Natasha Sewell and William Whitaker.
In 2005 his many performances (including the only double clear round for the winning British team at the European Championships in Freudenburg) enabled him to obtain the title of Junior Show Jumper of the Year event at the Horse of the Year Show, ridden by William Whitaker.

With career winnings above £10,000 he is the only pony currently holding the BSJA Silver Elite status for stallions.
A stunning bay with a classic jumping style, he has a superb temperament. A fearless pony able to jump the largest, most technical courses, and a superb water jumper. (photo courtesy Sewell)

His first foal, MAELSTROM is the daughter of the Hall of Fame show jumping legend, COLTON MAELSTROM.
For more info: Pellion Stud.
VIDEO:
Another video: ndien de Here's first European Trial for the British Pony Show Jumping team, ridden by Natasha Sewell. Held over 3 days at Wales & West in 2004, he had zero jumping faults after 3 days of competing with the best ponies in Britain. This is the final day, traditionally the biggest track (double clear and 3rd place in a large class). He was one of the top two performing ponies over the whole week-end, and one of the youngest in the class, aged 8.
Tango Las Marismas, the brave palomino Anglo-Arabian gelding that carried Taylor Bland to a historic victory at the 2006 FEI Children's Final, is proudly offered for sale by owner Las Marismas Sporthorses, a training business with bases in Canada and the Dominican Republic.
Following on her incredible success at the 2006 FEI Children's Final, Bland, under the tutelage of Canadian Show Jumping Team member Jill Henselwood, continued to lease Tango Las Marismas for the first-half of the 2007 HITS Thermal circuit in California before returning to school. Once again, Tango Las Marismas proved himself a winner in the show jumping ring, claiming the Mid-Circuit Championship in the Low Junior Jumper Division following the first three weeks of competition.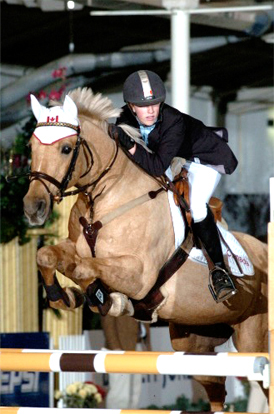 Equine Canada named Taylor, of Calgary, AB, the 2006 'Junior Equestrian of the Year'.
The Gillian Wilson Award is given annually to the 'Junior Equestrian of the Year' in recognition of a junior competitor who has made outstanding contributions to equestrian competition and who has exemplified exceptional talent, sportsmanship, and dedication to the sport.
Here they are competing at Spruce Meadows in 2008:
The French Anglo-Arabian stallion Mont du Cantal (Monfleury x Pola d'Auvergne x Fanfan La Tulip) has a top American showhunter to his credit. Milan, owned and shown by Caroline Clark Morrison of North Carolina, earned his sire the #74 position natonally in the USEF Leading Hunter Sire rankings for 2006. Milan finished the year in 6th place nationally and 4th place in Zone 3 in the very competitive Amateur Owner Hunter 35+ division. They finished the season with a Championship at The Washingon International Horse Show, one of the most prestigious shows in the A-rated Hunter/Jumper world.
Milan at Washington
Mont du Cantal has also sired some winning jumpers and dressage horses, including Mon Cristal and Margue, the latter having just won the CDI*** Grand Prix of Marikolnak.
Mont du Cantal
The Anglo stallion Ulrik du Logis (Noyalo x Passerine x Toscan III) sired the show hunter Honneur, a two-time Performance Horse Registry Silver Stirrup Champion in Pre-Green Hunter in 2005 and 2006. Honneur (pictured below) has also placed in the USEF & MHSA rankings in both Pre-Green and Adult Amateur Hunters. Honneur recently won the Adult Amateur Hunter Classic at Lexington and the Adult Amateur Hunter Tournament of Champions.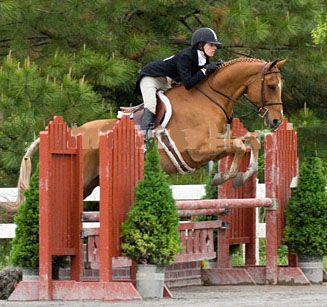 The World Breeder Federation for Sport Horses (WBFSH) posted its Studbook ranking for 2006 in FEI Dressage, Showjumping and Eventing. The Anglo-Arabians ranked Fifth in Eventing and 24th in Jumping. The horses that contributed to these rankings are as follows: Fanny De La Tour (SWE), Hurrycaine (BEL), Gypsy de Bacon (FRA), Fandzi de St. Paul (FRA) and Baiarda (ITA) in Showjumping.
Fanny de la Tour
Hurrycaine
Gypsy de Bacon (l) and Fandzi de St Paul (r)
Currently, the WBFSH is the only international Federation of Studbooks for Sport Horses in the world. The WBFSH is the major connection between the breeding organizations of sport horses and the international equestrian sport (FEI).
The WBFSH has been ruling the World Breeding Championships for Sport Horses (WBCSH) in the three olympic disciplines since 1992, together with the FEI.
Calgary, Alberta - Tango Las Marismas carried Taylor Bland to a historic victory by becoming the first Canadian to win the FEI Children's Final held October 24 to 28 at Spruce Meadows in Calgary, AB. Bland, 13, of Calgary, AB, piloted the Spanish-bred Tango Las Marismas, owned by Las Marismas Sporthorses, to the Gold Medal. After placing second in the first two rounds of competition on Wednesday and Friday, Bland was among the six riders to advance to the jump-off in the final round of competition on Saturday evening. With a clear round in a time of 29.10 seconds, Bland was more than two seconds faster than her closest competition. It was an all-Canadian finish as Ben Asselin of Calgary, AB, earned the Silver Medal in a time of 31.12 seconds, and Jake Krembil of Schomberg, ON, took the Bronze in a time of 31.52 seconds.
Originally bred for bull fighting, Tango Las Marismas showed his heart and courage by jumping fault-free over three days of competition. Eduardo and Yvonne Muñiz of Las Marismas Sporthorses, an equestrian facility based in the Dominican Republic, purchased Tango as a four-year-old in Spain from his breeder, Manuel Vidrié Gómez. Yvonne Losos de Muñiz, who is an accomplished jumper and dressage competitor, successfully competed the 15.2hh palomino Anglo-Arab gelding in the jumper divisions, even showing him in the 1.40m open speed classes at the 2001 Winter Equestrian Festival in Wellington, FL.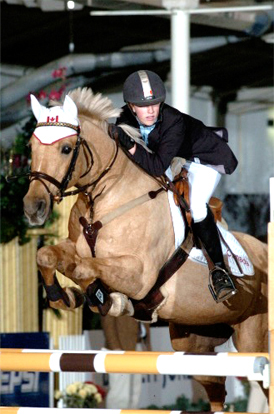 As Yvonne turned her competitive focus to dressage, winning the Individual Bronze Medal at the 2003 Pan American Games, her students enjoyed great success with Tango, competing with him internationally in the United States and Argentina in 2003, and in Spain as well as the United States in 2004. "Instead of bringing Tango back to our home in Dominican Republic in 2004, we sent him to our farm in Canada," explained Yvonne, who is a dual citizen of Canada and the Dominican Republic. "From there he was leased for a year by a young girl from Ottawa. Following that, Longwood Stables took him to ride in 2006 and facilitated his temporary lease to Taylor at the request of Jill Henselwood. He is a very honest horse, he won't touch a rail, and having been bred for bullfighting, he is very brave and has a heart of gold. With my Canadian background, we are so proud that we could help a Canadian win the Final!"
Bland began leasing Tango Las Marismas, now 12, in August when she came east for three weeks of training and showing with Canadian Show Jumping Team member, Jill Henselwood. Three weeks turned into three months as Bland successfully qualified for the FEI Children's Final after winning the Qualifier held during the Spruce Meadows "Masters" Tournament in September. "Tango is really good, he is very quick over the ground, so that makes him very fast in the jump-off," said Bland of her partner, who was also named the 'Best Horse' of the competition. "He never stops, so when I go in the ring at least I know I am going to cross the finish line. He is really sweet, he loves attention, and is always searching people's pockets for treats."
Horses run in the family - Bland's grandfather was a member of the RCMP Musical Ride, and her father was a professional saddle bronc rider. Bland began riding at the age of three and five years later turned her attention to show jumping, competing at Spruce Meadows for the first time as an eight-year-old. Having grown up at Spruce Meadows, Bland was comfortable with her surroundings for the FEI Children's Final, and was well-supported by her family and friends who came out to cheer her on. "I can't really believe that I won, but it feels really good!" said Bland, a grade eight student at Monsignor J.S. Smith School. "It was a really great experience, Spruce Meadows went out of their way to make all of the riders comfortable with each other. I made friends with riders from Brazil, the United States and New Zealand that I will stay in touch with."
The FEI Children's Final, open to riders from around the world aged 12-14, was developed to encourage up-and-coming riders to participate in international competition with support from the International Equestrian Federation (FEI). Each year, a total of 32 children from around the world gather for a week of show jumping and camaraderie. After two rounds of qualifying competition, the top 16 riders move forward to the Final, while the remaining 16 riders participate in the Farewell Competition. Canada hosted this event in 2003 when Spruce Meadows was the venue.
The United States Equestrian Federation has announced the Horse Of The Year National Championships for 2006. A great number of winners are Anglo-Arabiians and are listed below. The leading owner for HA/AA is Alexis Starer, owner of BEFORE SUNRISE+++//. Congratulations to all!
Before Sunrise+++// and owner Alexis Starer
OVERALL GRAND CHAMPION HALF/ANGLO-ARABIAN: BEFORE SUNRISE+++// owned by Alexis Starer of Cape Charles, Virginia
HA/AA Hunter/Jumper: 7th DW RAVEN +++//, Kathleen Cannon, OK; 10th AC NO FOOLIN++/, Tracy Ratliff Lord, GA; 11th KHANDLE IN THE WIND+++//, Jennifer Roberts, NH; 15th BEFORE SUNRISE+++/, Alexis Starer, VA; 18th ACE OF SPADES+++//, Marie Arias-Stein, MD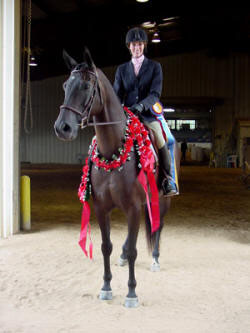 Kathleen Cannon's DW Raven+++//
HA/AA Specialty: 8th ACE OF SPADES+++//, Maria Arias-Stein, MD; 21st AC NO FOOLIN++/, Tracy Ratliff Lord, GA; 24th DW RAVEN +++//, Kathleen Cannon, OK; 48th KHANDLE IN THE WIND+++//, Jennifer Roberts, NH.